Actress / Director Kinuyo Tanaka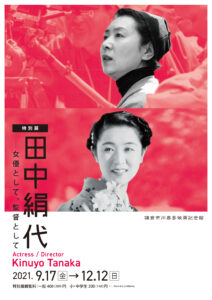 One of Japan's most popular actresses and a pioneering director
Kinuyo Tanaka (1909-1977) who made her movie debut at the age of 14, gained popularity as a pretty daughter in the era of silent movies, allowing her to shift successfully from silent to talkie films and to create numerous hits such as The Neighbor's Wife and Mine and The Tree of Love.
Tanaka met the film master Kenji Mizoguchi and began a legendary collaboration with him. After the war she also worked for many other leading directors including Yasujiro Ozu, Mikio Naruse and Keisuke Kinoshita. She demonstrated her remarkable talent not only in diverse roles, but also in a variety of styles and genres over her career spanning half a century.
Always having an adventurous spirit, Tanaka made her directorial debut in the 1950s, became the first female theatrical film director. Despite working in the male dominated film industry, her achievements as an actress as well as a director of 6 films should be spotlighted today.
This exhibition introduces the footsteps of Kinuyo Tanaka, who was closely connected to Kamakura by displaying her precious mementos.
9am-5pm (Closed on Mondays)
Exhibition admission fee (Special Exhibition): General 400 yen / Elementary and Junior High Student 200yen
Movie tickets: 1000 yen / Elementary and Junior High Student 500 yen