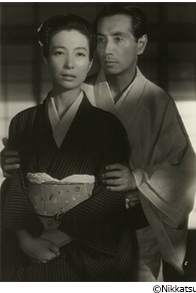 A film adaptation of Soseki Natsume's later work that has been widely read all over the world. The novel was written after Soseki was shocked by the news that Gen. Nogi immolated himself to attend on Emperor Meiji beyond the grave.
One Summer day at the end of the Meiji era, Hioki befriends Nobuchi, whom he met in Kamakura. Getting to know Nobuchi, he begins to wonder about the relationship between Nobuchi's loneliness and his wife. While Hioki is away in his home town to care for his father, he receives a thick letter from Nobuchi. It says, "By the time this letter gets to you, I will no longer be in this world." The letter like a will also reveals a tragic story that happened between himself, his friend, and a girl when he was young.
This universal masterpiece in which egoism in human nature emerges was directed by Kon Ichikawa, who is known as "Tokyo Olympiad" (1965), "The Makioka Sisters" (1983), and so on.
1955 / 122min / 35mm / EnglishSubtitled
Director:Kon Ichikawa
Cast:Masayuki Mori, Michiyo Aratama, Tatsuya Mihashi, Shoji Yasui, Tanie Kitabayashi
Adult:¥1000 Child:¥500(under 15 years old)
Tuesday October 22, 2pm
Wednesday October 23, 10:30am
Friday October 25, 2pm
Saturday October 26, 10:30am
*35mm print from the archive of The Japan Foundation Film Library
>>>>>
Tickets are on sale from September 21st, 2019 at :
Kamakura City Kawakita Film Museum, Taraba Bookstore (Kamakura Sta. West exit), Shimamori Bookstore (Kamakura Sta. East exit)