JESUS (Bokuwa iesusama-ga kirai, 僕はイエス様が嫌い)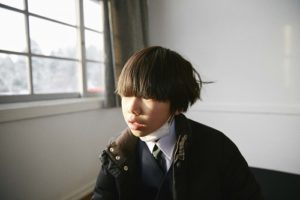 Saturday 13, March 10:30/2PM☆
Sunday 14, March      10:30/2PM
☆Director Okuyama's talk event will take place on March 13th after the 2PM screening.(In Japanese language only)
Story:  Yura is a young boy whose family leaves Tokyo to live with his grandmother in the snowy countryside. Not only must he fit in at a new school, but it's a Christian one. At first he is puzzled when he and his classmates are called to "worship," but he gradually adjusts to his new environment. One day, in the middle of a prayer, he sees a very small Jesus appear before him. Each wish Yura makes to Jesus comes true, and he starts to have faith in the power of the Lord.
2019/ 76min / Color / DCP / English subtitled
Cast: Yura Sato, Riki Okuma, Chad Mullane, Yuko Kibiki,
Akko Tadano, Kouichi Nihei, Kenichi Akiyama, Ippei Osako, Masayasu Kitayama, Mari Hatsumi, Hinako Saeki
Written and Directed by Hiroshi Okuyama
Hiroshi Okuyama (born in 1996) is a Japanese film maker, cinematographer, screenwriter, editor.
He began his career as a film director when he was still in High school. He first received critical acclaim in 2014 for his Music video "GRADUATION PARTY!!!!!" which premiered at the Kyoto International Film Festival. From 2017, he focused on cinematography which led him to being nominated for various film festivals.
In 2018, his short film "Tokyo 21st October" selected for Shorts Shorts Film Festival & Asia 2018 and other renowned film festivals such as Busan International Film Festival.
In the same year, he directed his first feature film "JESUS" which won Kutxabank-New Directors
Award at 66th San Sebastian Film Festival.
Movie Ticket:
Adult: 1000yen / Child: 500yen (under 15 years old)
Tickets will be on sale from Feb. 2, 2021 at Kawakita Film Museum.
Please make your inquiries regarding ticket purchase by email
contact@kamakura-kawakita.org