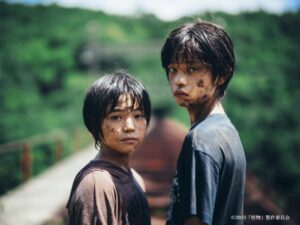 10:30 / Sunday 14, January, 2024
2023/colour/DCP/125min.
Directed by Hirokazu Kore-eda
Written by Yuji Sakamoto
Cast: Sakura Ando, Eita Nagayama, Soya Kurokawa, Hinata Hiiragi, Yuko Tanaka, Mitsuki Takahata, Shido Nakamura
An ambitious work whose story unfolds from a variety of perspectives – that of two young boys united by a secret bond, their emotionally disturbed school friends, and the adults ar54ound them – to slowly reveal the identity of a "monster." The film was the last to be scored by Ryuichi Sakamoto, who passed away in March 2023 shortly befor the film's release. Its script, written by poplar TV screenwriter Yuji Sakamoto, was awarded the Est Screenplay award at the 2023 Cannes Film Festival.
Tickets (incl. Exhibition Admission Fee) are available from 9 December
at Kamakura City Kawakita Film Museum.
Adult: 1000yen / Elementary & Junior High School Student: 500yen