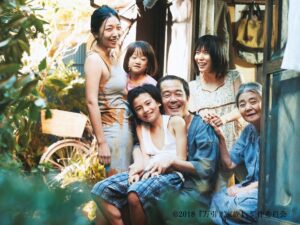 10:30 / Sunday 10, December, 2023
14:00 / Tuesday 5, December, 2023
2018/colour/DCP/120min.
Directed/Written by Hirokazu Kore-eda
A family of five, unrelated by blood, lead a seemingly content life despite relying on shoplifting to survive. One night, after encountering a young girl from the neighborhood who they suspect is being abuse by here parents, they decide to take her in… A highlight of Kore-eda's oeuvre which crystallizes his preoccupation with the question of what it means to be a family. Winner of the prestigious Plame d'Or at the 2018 Cannes Film Festival.
Tickets (incl. Exhibition Admission Fee) are available from 11 November
at Kamakura City Kawakita Film Museum.
Adult: 1000yen / Elementary & Junior High School Student: 500yen