2023.3.18~6.25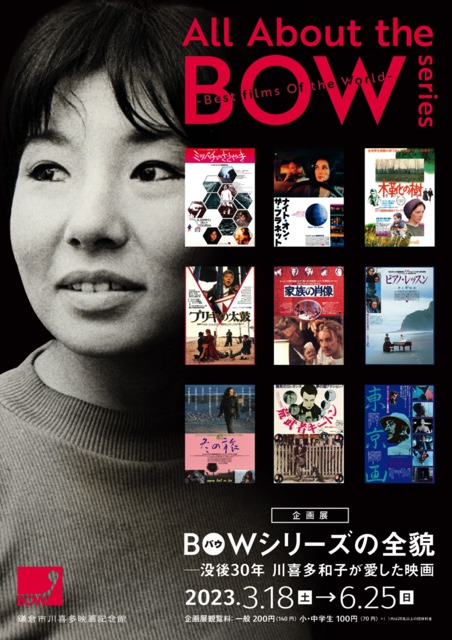 "Mini-Theater", focusing and showing individual or unique films imported from overseas, boomed in 1980s to 90s in Japan. One of Japanese film distribution companies contributed to the booming was France Eigasha (Film Company in English, hereafter, FE) established by Kazuko Kawakita and her husband, Hayao Shibata, in 1968.
Kazuko Kawakita, who was the only daughter of Nagamasa and Kashiko who were the most famous figures in Japan in buying and importing films from overseas through their company since prewar, was familiar with the films since early childhood and took over their philosophy of international exchange through the films.
In 1976, in addition to export Japanese films to overseas as their initial activity, FE, under the slogan of "bring masterpieces from overseas", started BOW (Best films Of the World) series which introduced various kinds of films from classic masterpieces to works by new generation.
FE under BOW style, at first, continuously focused on each filmmaker, and then gradually built the relationship of mutual trust deeply with many filmmakers of the era.
As the result, Kazuko became a leading figure of BOW activities with Hayao Shibata and poured her endless passion into the introduction of favorite films during all her life.
Nagisa Oshima, who was one of the most famous Japanese film directors and Kazuko's sworn friend, sent her generous compliments that "Kazuko appreciated the films as soon as we made, praised them when our films would be good, and showed them in theaters. How she encouraged us, how she cheered us up, how she gave us the courage to keep making films".
Unfortunately, Kazuko passed away suddenly in 1993 at age of 53. On the 30th year after her death, Kamakura City Kawakita Film Museum planned to exhibit some films she loved, mainly selected from BOW series, through display, screening and talk events by special guests for the memorial event.
Himatsuri (Fire Festival):
The screenplay was written by Kenji Nakagami (1946 – 1992, born in Shingu, Wakayama prefecture, where the film is situated and shot), inspired by a real murder case in 1980. The story was to express a woodcutter who was gradually filled with his madness at an isolated village in Kumano, Mie Prefecture, dealing with the fusion of Japanese aboriginal mythology, its nature and people.
Including this film, Kazuko Kawakita strove to introduce Japanese films overseas.
Yumemiruyouni Nemuritai (To Sleep So as to Dream):
Kaizo Hayashi as the director and screenwriter boldly used silent techniques and the story of this ambitious film was to express the adventure of a private detective who investigated a mystery about an incomplete silent film set in Asakusa, around 1960.
Kazuko Kawakita involved in the production of English subtitles and the film was evaluated at film festivals in the world.