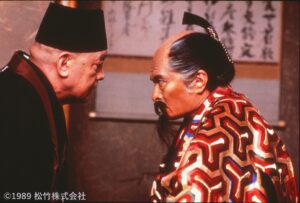 10:30 / Sunday 12,June, 2022
14:00 / Tuesday 7, Thurday 9, Saturday 11, June, 2022
1989/Color/35mm/135min.
Based on the Novel: Hideyoshi and Rikyu written by Yaeko Nogami
Director: Hiroshi Teshigahara
Script: hiroshi Teshigahara, Genpei Akasegawa
Cinematography: Fujio Morita
Music: Toru Takemitsu
Costume Design: Emi Wada
It's the spring of 1582.  Lord Nobunaga Oda enjoys his heyday as Japan's ruler.  One of Oda's many warlords, Hideyoshi Toyotomi, is the master of Rikyu, a Buddhist who perfects the art of the tea ceremony.  Oda is assassinated and Toyotomi kills the assassin, effectively becoming the country's ruler.  Toyotomi uses Rikyu's growing influence over key millitary and political men to his own advantage, secretly scheming to invade China and Korea….
Hiroshi Teshigahara:
Born in Tokyo in 1927, Hiroshi Teshigahara is the son of Sofu Teshigahara, founder of the Sogetsu School of flower arrangement. his Women in the Dune won the Special Jury Prize at the 1964 Cannes Film Festival. After his 1972 feature, Summer Soldiers, he retired and succeeded his father as the head of the Sogetsu School. This film marks his comeback as a director.
Movie Tickets (incl. Exhibition Admission Fee) now on sale at Kamakura City Kawakita Film Museum.
Adult: 1000yen / Elementary & Junior High School Student: 500yen