Where Chimneys are Seen (Entotsu no Mieru Basho、煙突の見える場所)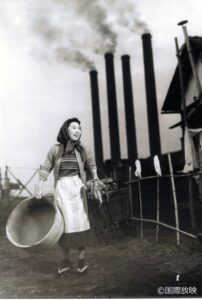 10:30 / Tuesday 12, Thursday 14, Saturday 16, October
14:00 / Wednesday 13, Friday 15, Sunday 17, October
1953/Shin Toho, Studio 8/B&W/35mm/108min.
Original Novel written by Rinzo Shiina
Director: Heinosuke Gosho
Cast: Kinuyo Tanaka, Ken Uehara, Hideko Takamine, Hiroshi Akutagawa, Chieko Seki, Haruo Tanaka
Based on a novel by Rinzo Shiina. The story is set in Kita-Senju, a working-class part of Tokyo where "ghost chimneys" are seen. There appear to be two, three, or four smokestacks according to the angle from which they are seen. Under those four chimneys, a couple, Hiroko and Ryukichi, lives a humble life, having two lodgers on the second floor of their home. One day a baby appears before them. This baby is left on their doorstep, accompanied by a letter saying that the baby is Hiroko's former husband's…
This film won the International Peace Prize and Special Prize of the Senate of Berlin at the 1953 Berlin International Film Festival.
Movie Ticket (incl. Exhibition Admission Fee) goes on sale on Saturday, Sep. 11, at Kamakura City Kawakita Film Museum.
Adult: 1000yen / Elementary & Junior High School Student: 500yen